The experts share their money-saving secrets
Boston's building boom is still in full swing and with ever increasing construction costs, it is becoming more difficult for tenants to understand what is driving the expense of the buildouts. It's difficult to believe that it can be a challenge to design a compelling and relevant office space for $80-90 per RSF in a downtown office building with union labor. However, if you start the planning early enough and establish a clear understanding of what the cost drivers are, there are still ways to construct spaces for this budget. The experts at Fusion Design Consultants, Inc. have intimate knowledge of what makes a cost effective and efficient work space:
According to John Kelly, Founder & CEO of Fusion Design Consultants, Inc. - If we take the example of a 10,000-sf vacant shell space in a downtown office building with union labor, a tenant's initial basic foundations should include:
Select the perfect fit brokerage team to advise on market conditions and space availability.
Determine the required location and building type.
Determine the desired RSF – working with an Architectural Design Firm that specializes in corporate office work, the tenant should soon understand what the difference is between usable SF and rentable SF. Working with the Architect, the initial programming phase helps determine what the overall tenant space requirements should look like.
Determine the required apportionment of built vs open space – The Architect should be advising on current and relevant workplace strategies with some idea of benchmarking in the relevant industry of the client.
Determine if the existing base building systems are up to basic industry standards – It is always wise to engage a professional MEP/FP Engineer to assist with assessing the condition of the building's Mechanical, Electrical, Plumbing and Fire Protection systems. This can be coordinated directly through your Architect partner.
Establish the minimum building standards for construction from the Landlord's perspective – This will normally come in the form of a 'work letter' and should clearly identify any special requirements from the building owner's perspective.
At present, the TI (Tenant Improvement) allowance from the Landlord will typically range from $50 - $65 per RSF for a 10,000-sf shell space with a 7-10 year lease term. The remaining tenant exposure for hard construction is anywhere above the TI allowance. We typically hear that our clients do not wish to come out of pocket for anything, but on an aggressive budget, it is typically $25 - $40 per RSF. It is also important that the tenant understand what the TI dollars can be used for. Exceptions will often include soft cost expenses like: professional design services, furniture, signage, security, supplemental HVAC or window treatments etc. Every building and every landlord works in different ways, but how the TI dollars can be used should all be part of the negotiation that takes place with your brokerage team, attorneys and the landlord.

John Kelly relates that on average, 30-40% of hard construction costs are associated with mechanical, electrical, plumbing & fire protection (MEP/FP). As you can see, this is a significant part of the budget that generally does not contribute to any aesthetic value in the build-out. This knowledge is fundamental in understanding cost allocation. Clients are almost always shocked that the dollars they must spend are not going directly to fit and finish that which will accommodate the intended aesthetic of the space.
 So how can we design the compelling space that gets raves on our limited budget?
1. Creative and informed floor plans 
Work with your Architect to create a plan that helps push the boundaries of efficiency, flexibility and creativity. It is imperative that the space be designed to allow people to work in the most engaging way possible. Remember, the less you build, the more you have for fit, finish and graphics. However, the fully open plan concept is not relevant for all industries. The space must be designed for the specific end users, as well, at their job function.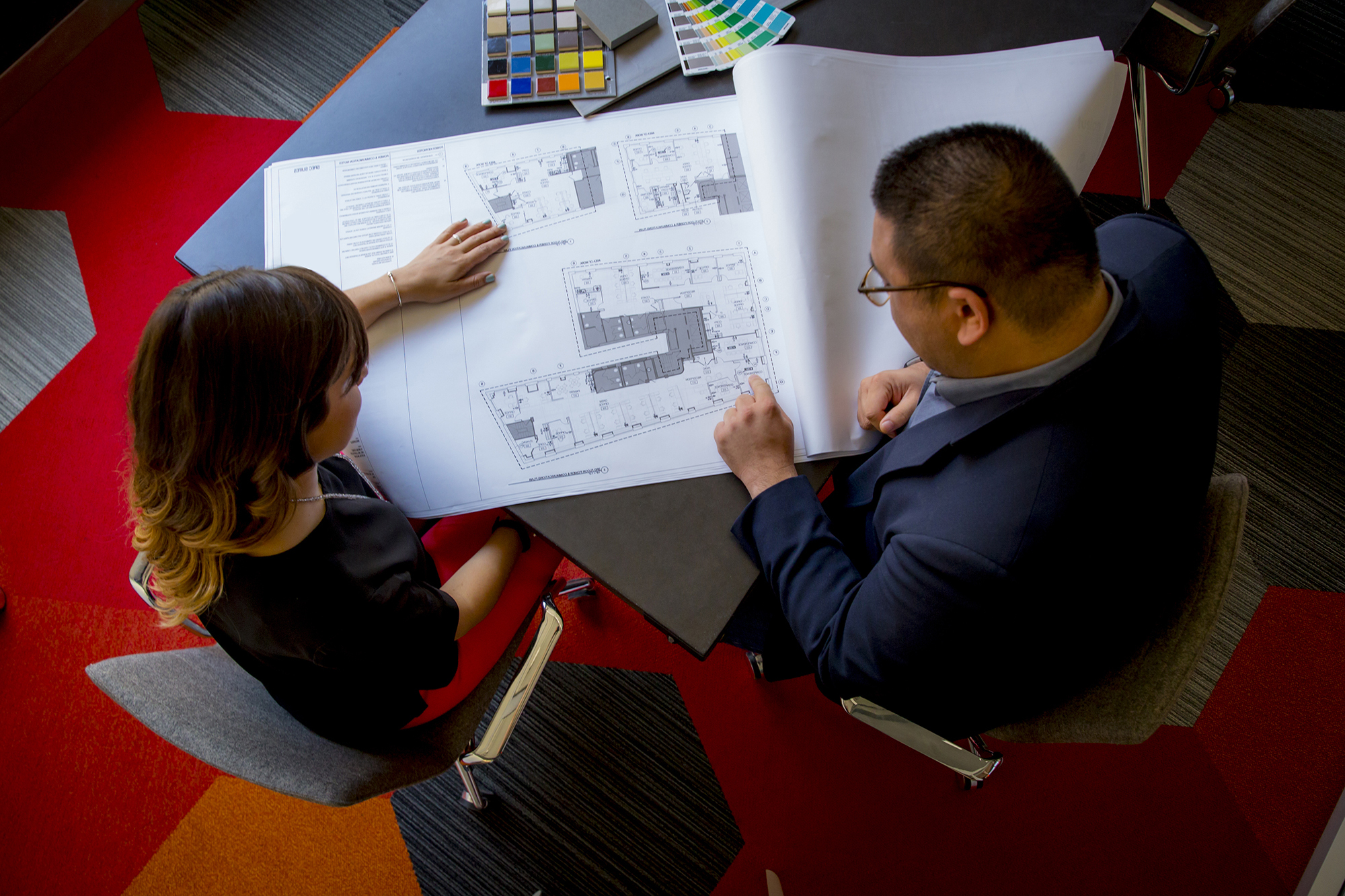 Reviewing floor plans to function at their highest potential. 
2. Furniture
Investigate furniture solutions instead of millwork for bar counters, kitchen islands, bench seating and more.  To save on the expensive millwork, minimize built in furniture and millwork and use a furniture product that can be depreciated more effectively than accounting for hard construction costs. Furniture can be placed to minimize the need for floor cores. Informal meeting spaces can be created with furniture solutions in lieu of more expensive hard construction.  Incorporate more semi-private collaboration space in lieu of formal conference/meeting rooms to reduce the cost for walls, doors, frames, hardware as well as fire protection and HVAC.  Determine how the client meets most effectively and plan for that.
  Jennifer Peters, a Principal at Fusion Design Consultants, suggests utilizing phone booths (purchased as furniture) in lieu of built phone rooms. This is a fun and always eye-catching way to save money and they can be moved at a later date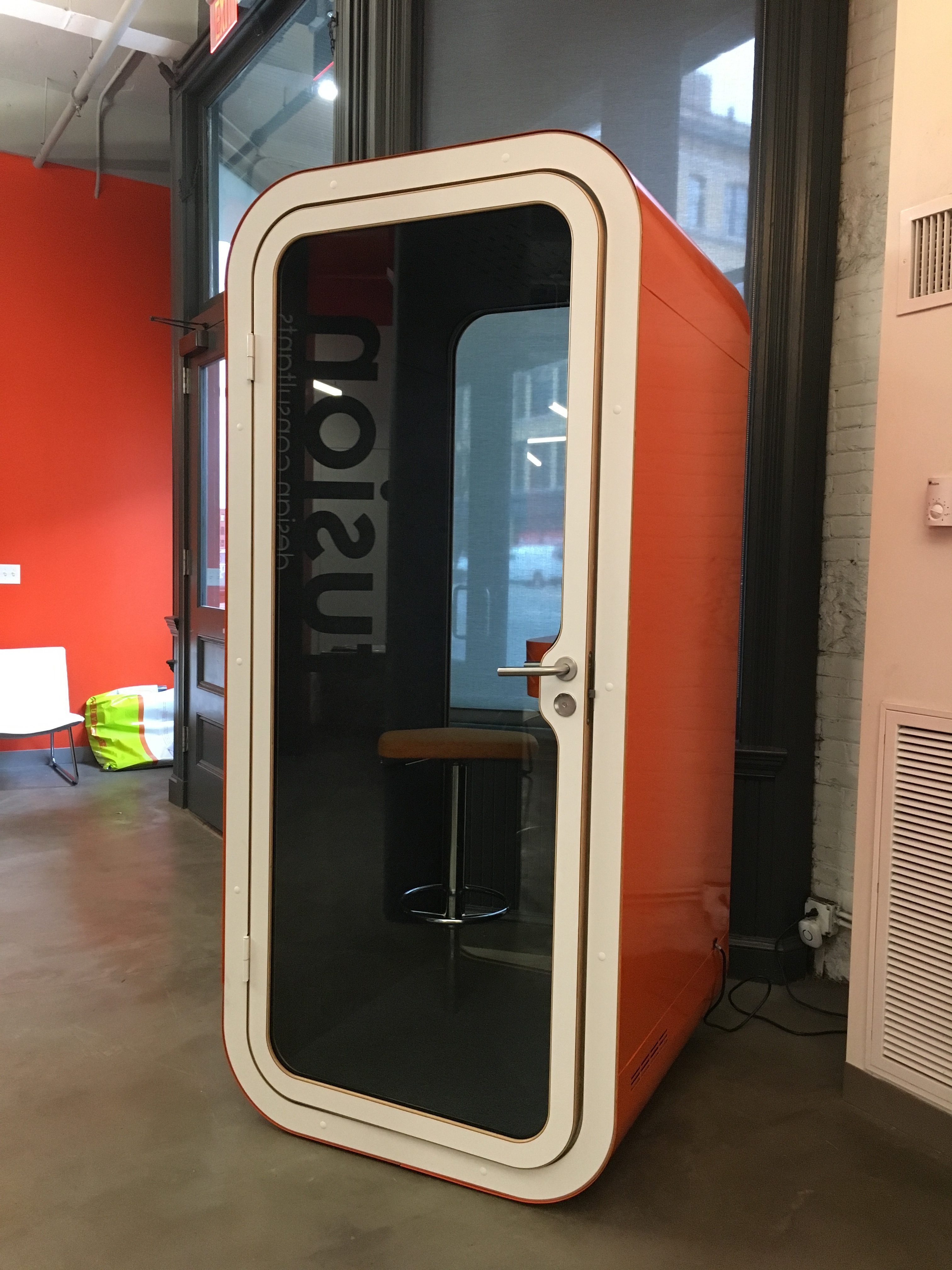 Framery Office Phone Booth
3. Flooring
This is another key area to save your space dollars when necessary.  Flooring materials can be varied to help designate spaces. Less expensive materials can be used in 'back of house' spaces to allow for more budget to be allocated to impactful areas such as reception or café etc.  Alternate flooring materials (such as LVT – Luxury Vinyl Tile) are inexpensive and very appealing when hardwood, stone or polished concrete do not fit into the budget.
Finally, minimize waste in the installation method of floor finishes: A herringbone carpet pattern, for example, creates more waste than a brick pattern installation. Aim for carpet in the $30 - $35 per SY range (installed).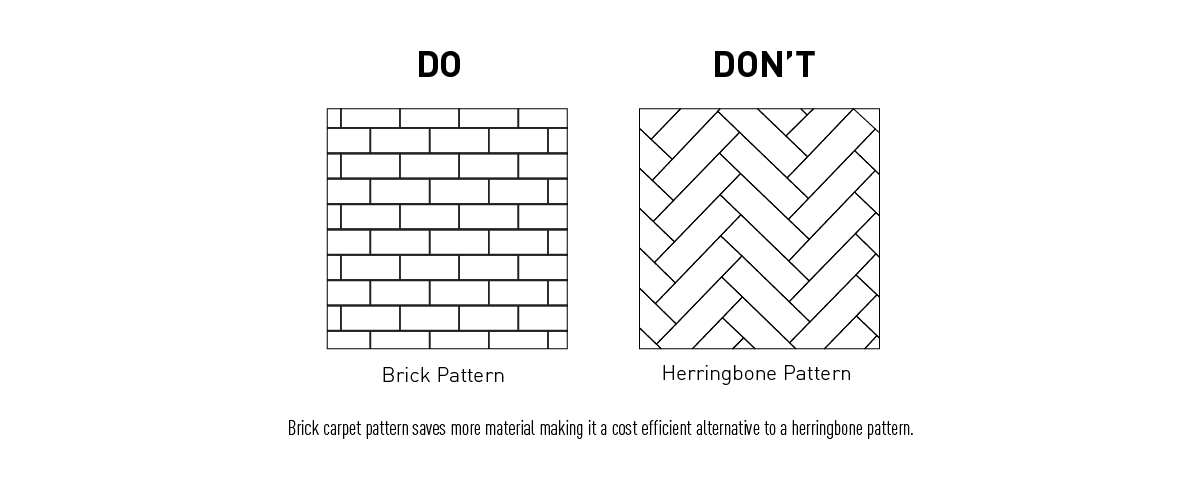 4. Environmental Graphics
When thinking about watching the budget, environmental graphics is a truly cost-effective way to achieve eye-catching customization with a very high impact. These EG elements range from simple signage packages to curated custom electronic media, wall coverings and glass films to ceiling and floor applications that allow clients to push the boundaries on telling their brand story through images and words.
This is also an area to let your creative flag fly high. According to Michael Knauff, a principal at Fusion Design Consultants, Inc – "Choose brand over style. Incorporate custom wall graphics into the space in lieu of higher end wall and floor finishes". Custom wall graphics clearly go the distance without hurting your bottom line.
Jeff Sprague of Blinker Branding offers that large format digital prints are a great way to personalize the space. "At around $35 SF, they are inexpensive enough to produce in multiple locations or as one big wow moment. They can even be printed on material that is easily removable".  
Blinker Branding views Environmental Graphics as an opportunity to make solid connections with clients and employees. "The content choices are endless", relates Jeff, "and can range from a simple brand message (or image) to a full out visual corporate history". Blinker handles the graphics as interior touchpoints that have the potential to go far beyond the corporate logo -  and will not kill the budget!
Custom wall graphics clearly go the distance without hurting your bottom line.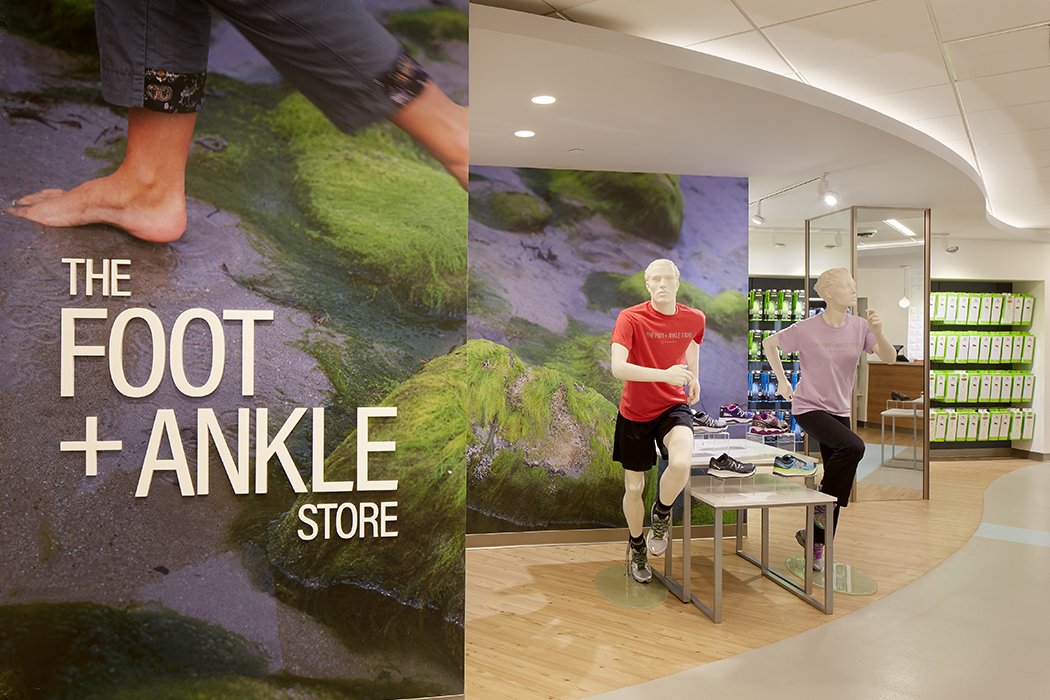 The Foot + Ankle Store, Waltham MA, Product Wall Display
5. Paint 
Jennifer Peters believes that accent colors and variations in color tones can add interest and make a space feel highly customized at very little cost. You can make a significant design statement with well-chosen paint applications.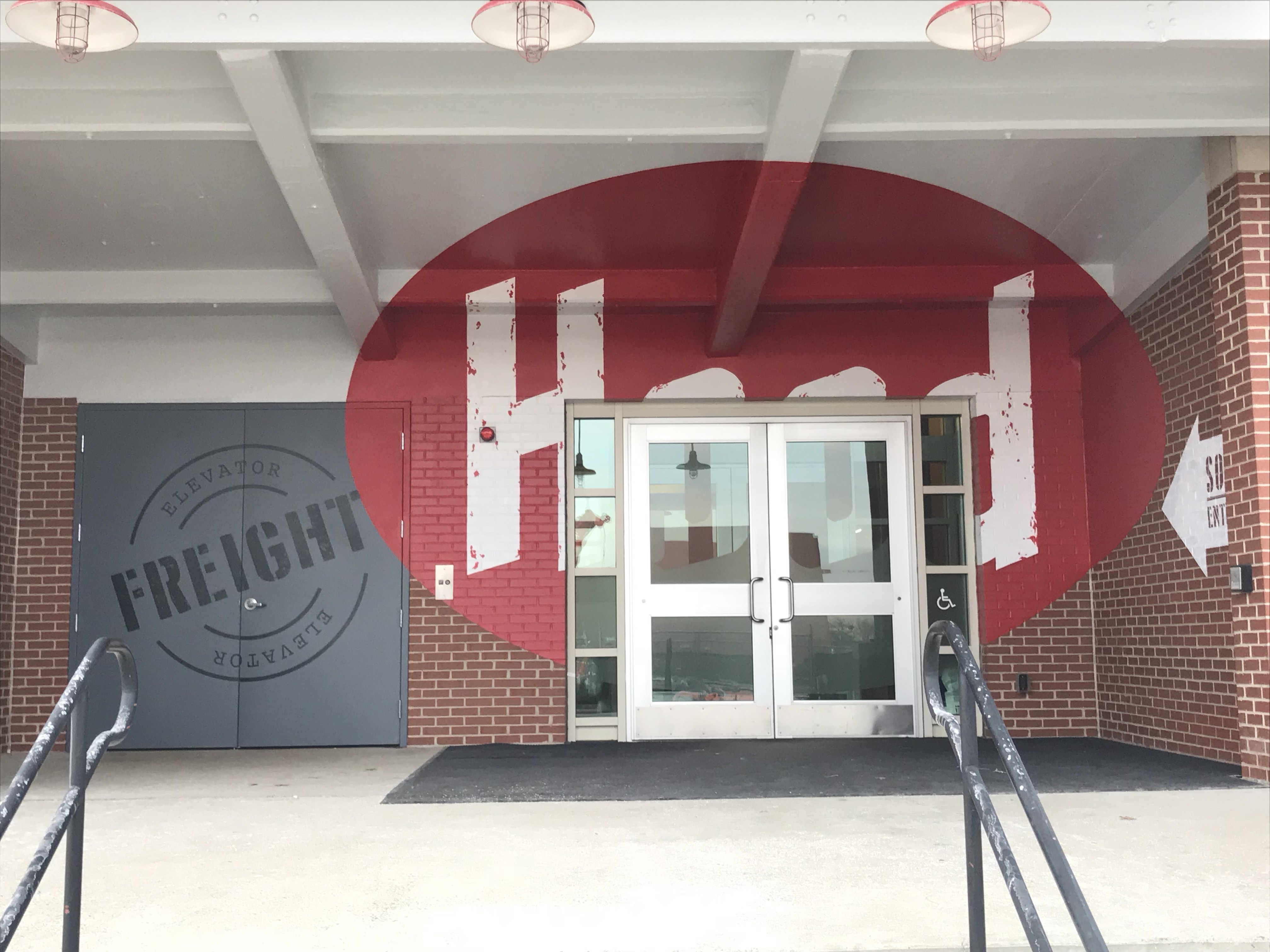 Hood Park Charlestown, MA Exterior Graphic
We have outlined the 5 "Do's" – 5 very achievable methods to keep your cost per SF down.
Don't...    
Now, here are 5 "Don'ts" – when your budget is small but you still want a compelling and aesthetically successful design:
Be cautious when designing open ceiling concepts – Contrary to what most people initially think, a large area of open concept ceiling is typically more expensive than a ceiling with an acoustic ceiling tile installation.

Minimize hard wall construction – This does apply to all industries, but the scale on which to cut back really must be tailored to the client and their type of work process. 

Don't design for heavy storage requirements. Become paper and storage free! – Millwork and storage components are expensive and can take up a lot of real estate.  John Kelly says, "It is often hard for our clients to justify spending $50 sf for an area to hold simple paper supplies and files."

Be strategic about the quantity of interior glass - This is a more challenging task as glass is a major component to make an office feel open, transparent and relevant – but will offer a significant savings in your final SF cost.

And finally, "take advantage of the ordinary", offers Michael Knauff. "Every day low-cost materials, utilized in creative and unexpected ways, offer a tremendously big bang for the buck". 

 "Take advantage of the ordinary."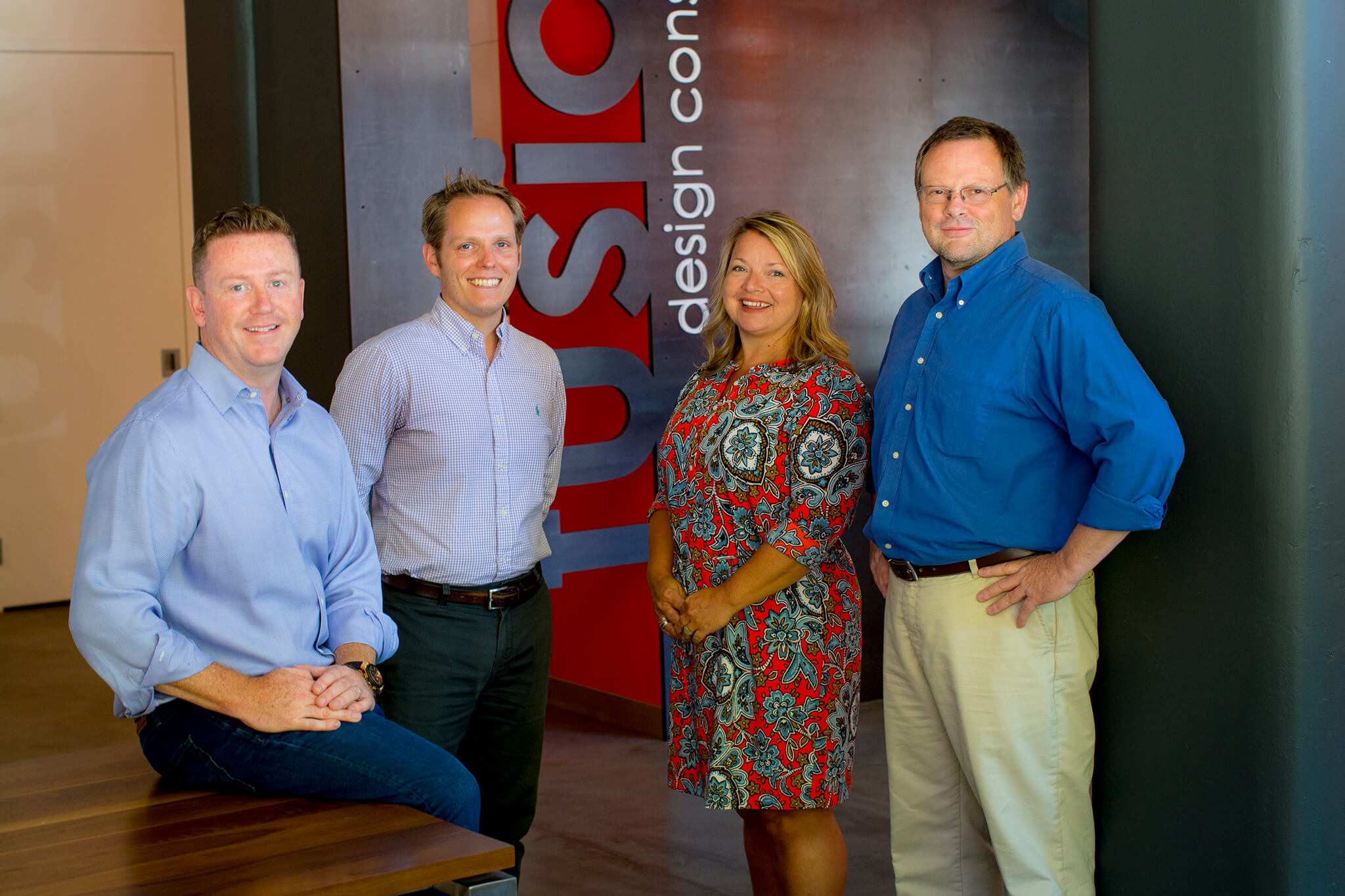 Pictured Left to Right: John Kelly, Michael Knauff, Jennifer Peters, Christopher Munro
If you are considering a relocation or expansion and need expert advice on steps to take and contacts to assist, please reach out to our experienced and friendly team – www.fusionboston.com